How an inspirational online customer experience drives webstore purchases
Verkkokauppa.com is Finland's most popular and frequently visited domestic online retailer. They're on a mission to be a trustworthy and transparent company that's always on the customers' side. Verkkokauppa.com provides a wide product assortment of products, including information technology, electronics, sports, toys, and installation services – and Vincit helped develop the online store to support easier purchasing decisions.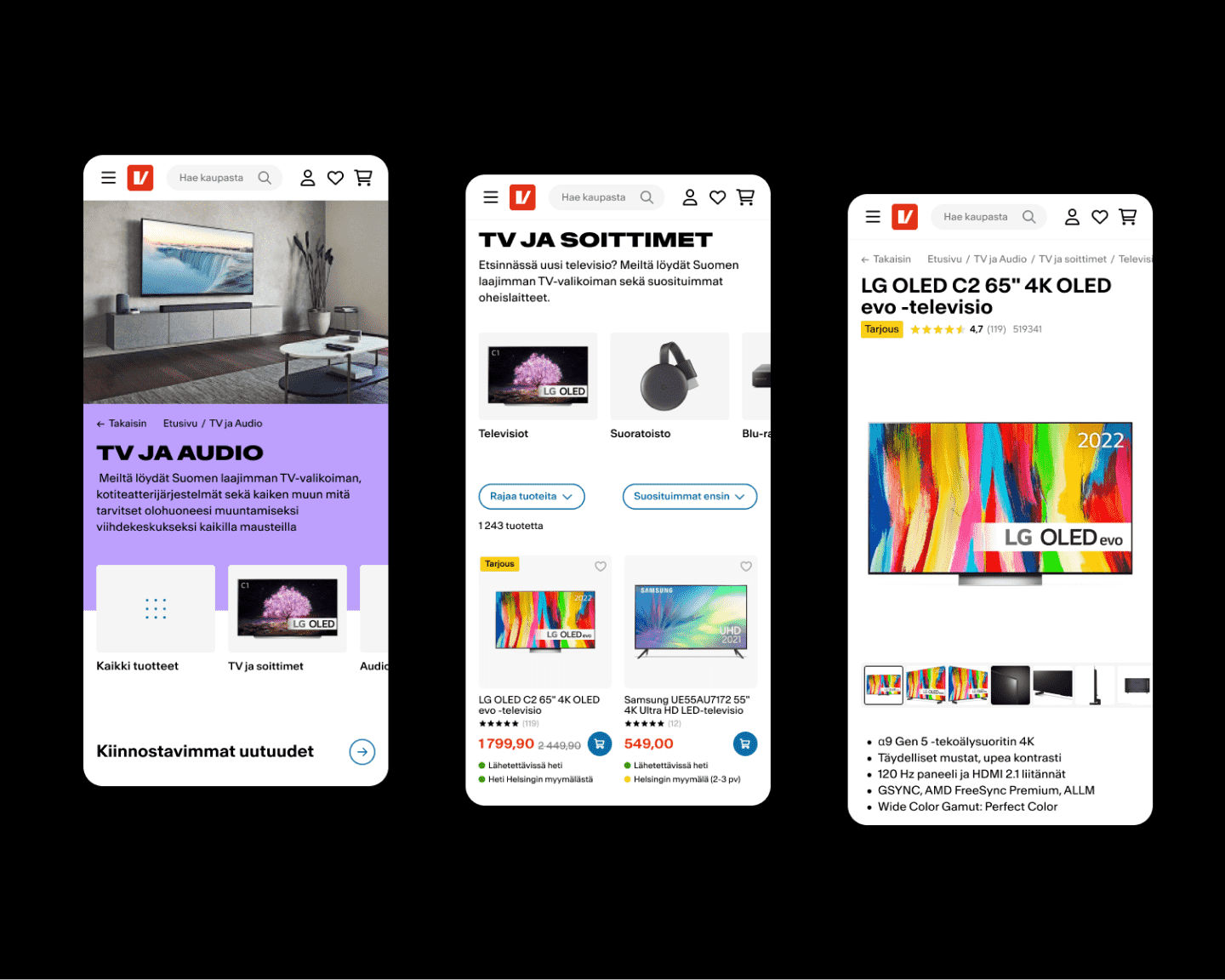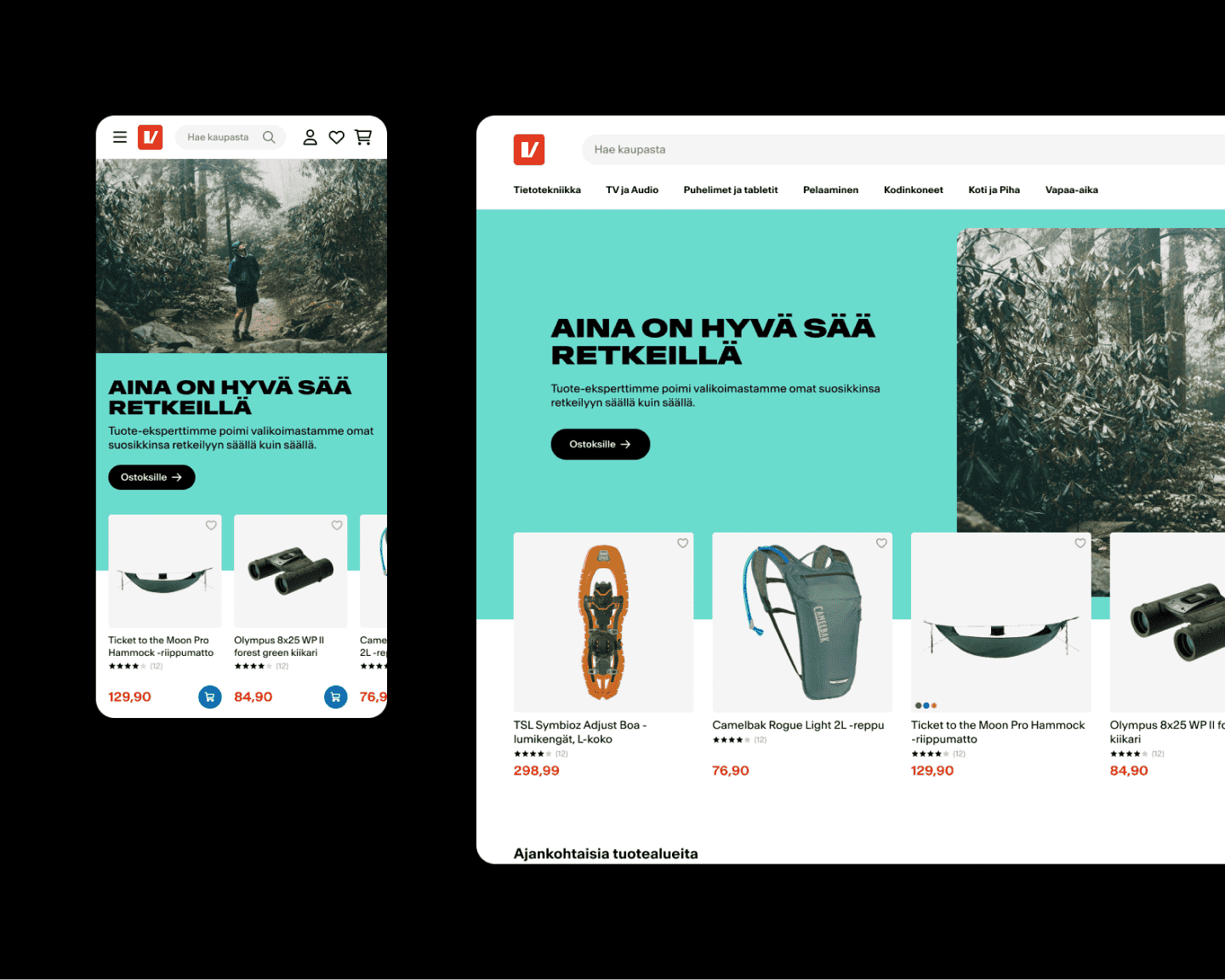 Putting the customer at the center
Customer research conducted by Verkkokauppa.com emphasized the crucial role of the web store in influencing purchase decisions, both online and offline. This insight prompted Verkkokauppa.com to launch a customer-driven development project with the goal of creating an inspirational online customer experience that ensures customers make purchase decisions that they're genuinely happy with. Enhancing category awareness and improving product discoverability were also important goals. The Verkkokauppa.com team wanted to implement an iterative customer-centric design process in their daily work.
Recognizing pain points in the customer experience and systematically working on tackling them was one of the biggest successes of the project. The co-working sessions were refreshing – Vincit prepared them and we got to spar designs and concepts together. The whole team was determined to fix the recognized challenges. We can be proud that together we kept improving the customer experience as our North Star throughout the project
Anton Paasi, Business Development Lead, Verkkokauppa.com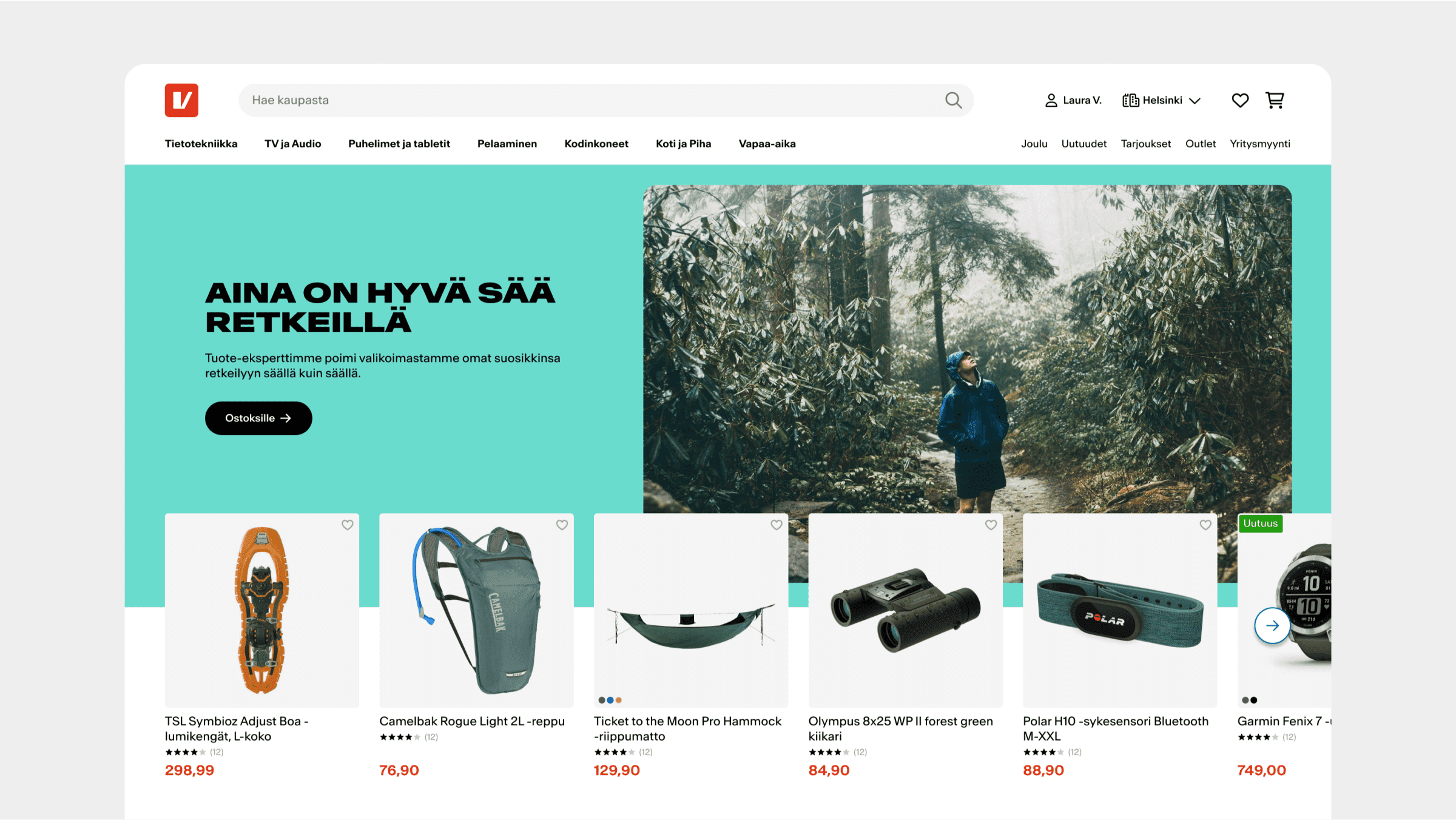 Customer-validated concepts and designs in sprints
The collaboration started with internal stakeholder interviews and workshops where we set ambitions and design drivers and mapped customer journeys and their pain points. The design work of the new webstore was then done in four design sprints.

This agile project placed a strong emphasis on customer validation and cross-functional teamwork. We continually assessed customer needs, business requirements, and technical feasibility throughout the project. The concepts and designs underwent multiple iterations based on feedback from customer validations.

As a result, all the new features address user pain points and provide tangible value to customers. Any items ready for development will also undergo A/B testing and further refinement by Verkkokauppa.com to ensure they perform as well as or better than existing features.

The new concept creates a more inspirational online customer experience in several ways. For example, it integrates relevant content into the customer journey and makes Verkkokauppa.com's expert knowledge more readily available online. The revamped product categorization and navigation boost category awareness, while adopting modular page layouts allows for personalized messaging to different consumer segments.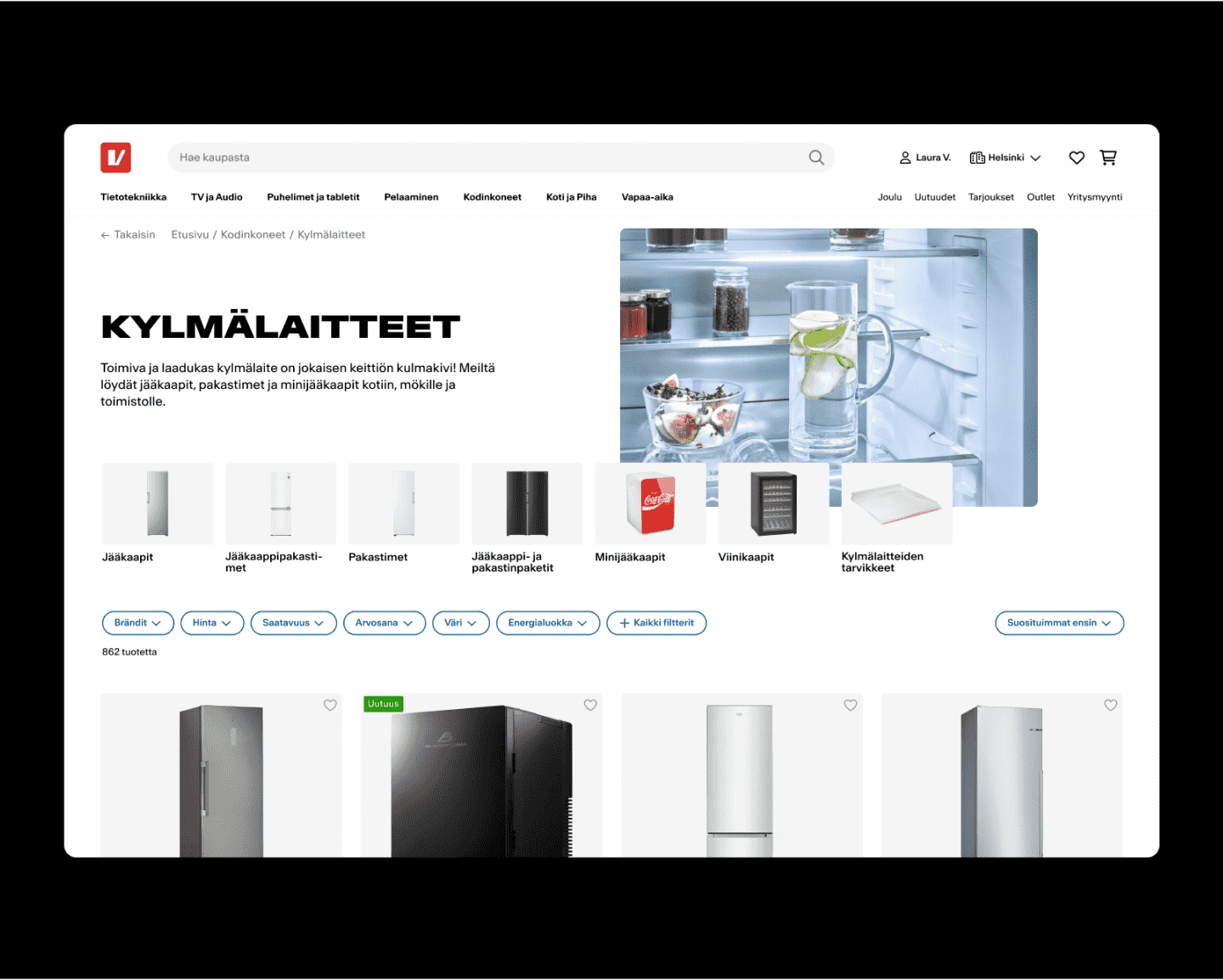 Easier optimizing
The new concept follows the principles of modularity and composability, which makes optimizing and maintaining the web store easier. Verkkokauppa.com can now target specific audiences with tailored messages. Additionally, Verkkokauppa.com adopted a new content management system to streamline and enhance content production efficiency.

Intuitive navigation
The project renewed the webstore navigation to better support customer needs and increase category awareness – while also putting in place a more customer-centric process for discovering products.

Relevant recommendations
The project introduced numerous new features to ensure customers are presented with more relevant products. The new product listings leverage data and machine learning, while the product recommendation and accessory recommendation elements use compatibility information and a likely-to-attach model, providing better recommendations to customers. The new compatible accessories recommendation model boasts a click-through rate that is already four times better than generic models.

Better functionality
The visuality of the new webstore concept also better supports different ways to browse products. New visual call-to-actions and teasers inspire customers to browse different categories, campaigns, and topical products.

New ways of working
Working together, we implemented an agile customer-centric design process.
Results
Increase in online consumer segment conversions YoY
Increase in Average Order Value YoY
Decrease in shopping cart abandonments YoY
Increase in average time spent on site YoY