SixThreeZero bike customization feature increases conversion rates
Sixthreezero, a renowned bicycle manufacturer, crafts stylish, durable, and customizable cruiser bikes that embody the coastal California lifestyle.
To transform online bike buying, Sixthreezero needed a brand-new app and website experience with innovative features to enhance the shopping experience.
The Challenge
With the pandemic, online shopping surged, sporting goods, especially bike sales, rose 400%. Sixthreezero's investment in its e-commerce infrastructure paid off; but to stay competitive, the company must continually evolve to meet changing preferences for existing customers and new buyers.
Solution
Vincit developed a customization feature to boost buyer confidence and enhance conversion rates. The innovative BodyFit quiz personalizes the bike selection process with recommendations based on users' measurements, preferred riding styles, and even past injuries.

This interactive feature streamlines the buying journey and empowers customers. Taking personalization a step further, potential buyers can customize their recommended bike, choosing colors and other features that resonate with their personal style. These new tools enhance the consumer experience and drive sales.

Beyond improving the e-commerce experience, Dustin Gyger, the visionary behind Sixthreezero, wanted to foster a sense of community and love of riding.

He invested in a brand-new app designed specifically for riders, providing a platform for connection, shared experiences, and a direct link to the company's purpose and values. Sixthreezero and Vincit have successfully elevated the bike buying experience, harnessing the power of personalization, community engagement, and seamless integration to truly revolutionize the way people discover and make their perfect bike their own.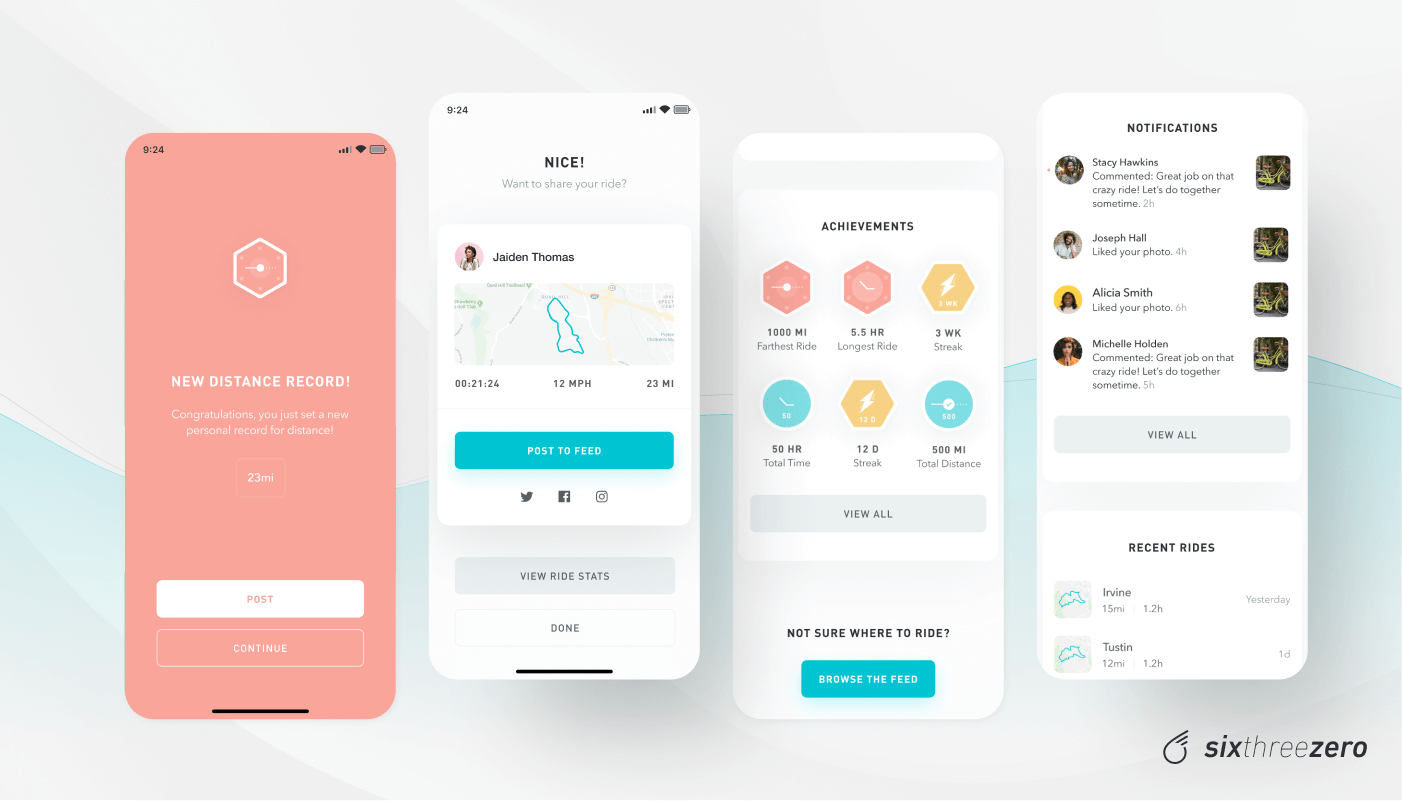 Website
Vincit proposed a modern e-commerce approach coupled with a Headless CMS to effortlessly manage the extensive products and combinations required for the customizer and other content.

Implementing a headless commerce architecture rejuvenated the system and provided flexibility to tailor the shopping experience to the brand, community, and user preferences.

The numerous plugins and add-ons were adversely impacting web performance and demanded constant internal attention. Vincit removed these hindrances, enhancing frontend efficiency and streamlining internal workflows with superior alternatives for a more seamless and optimized digital ecosystem.
Mobile App Development
By meticulously addressing the previous issues, Vincit transformed SixThreeZero's app into a pinnacle of reliability, functionality, and performance that met and exceeded user expectations.
App Features
The app encourages riders to elevate their performance by tracking and improving personal statistics while also fostering healthy competition within the biking community.
Whether embarking on a leisurely ride or pushing boundaries, the app's motivational features cultivate a sense of community and consistent biking habits. The BodyFit feature, which captures email addresses to share personalized results, has proven highly effective, resulting in a remarkable 10-15% increase in conversion rates.