Convenience in their pocket. Revenue in yours.
Users may need to conduct business with you at a moment's notice — while relaxing in a coffee shop, sitting on the subway, or waiting in the school pickup line. Whether your app serves customers or internal teams and stakeholders, giving them access to what they need when they need it sharpens your competitive edge.
Over 75% of users prefer apps over mobile sites for shopping and banking
UX has an ROI of $100 for every $1 invested, according to Forrester
86% of buyers say they would pay more for a better customer experience
Put every pixel to work
The two greatest factors in determining an app's success are 1) the value it provides and 2) its ease of use. Today's users are inundated with apps, and they simply won't accept low-value, frustrating experiences. We'll ensure your app makes its users' lives easier and empowers your entire digital ecosystem.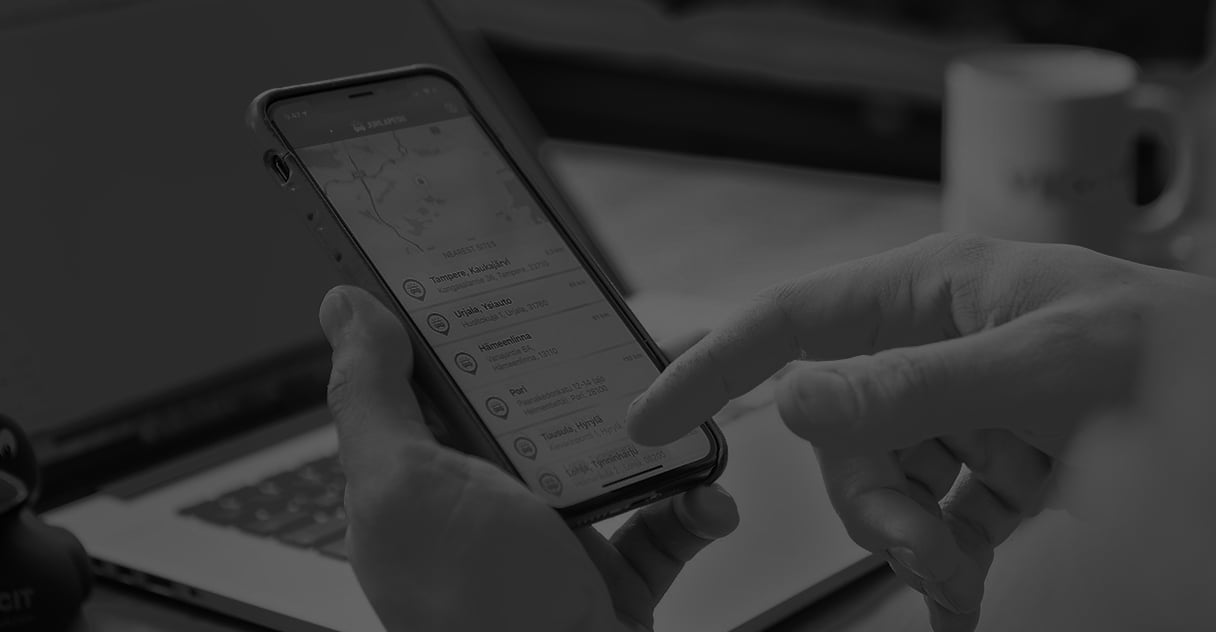 End user value
Not everything should be an app. We conduct user studies and workshops to identify the highest value for your end user. Then, we evaluate the business case to ensure profitability and start planning the rollout.
Maximizing window time
The sooner your app hits the market, the sooner it starts providing revenue. We'll help you identify a core feature set for your minimum viable product so we can release faster and start learning from user feedback.
Tooling & future-proofing
With MVP roadmap in hand, we can predict future needs like offline usage, SEO, and users' device base. Together, we can decide on what native, cross-platform, or PWA technologies make the most sense for your app.
Mobile Application Services
Mobile strategy consultancy
It's difficult to know where to start, what to make, and where to take it. We'll help create a mobile strategy that supports your business in the digital world and paves the way for cutting-edge solutions.
Internal apps
Apps built for internal teams can provide just as much ROI as customer-facing applications. We'll cultivate the perfect tools to streamline processes, make your teams more efficient, and fulfill your digital potential.
Native apps
To leverage the latest, most intuitive features and API, native apps are the way to go. Our team will create a world-class solution with polished, detailed design and the functionality your users need and expect.
Cross-platform development
By utilizing a single Flutter or React Native code base across iOS and Android platforms, we minimize the complexity and cost of your project. Meanwhile, users can enjoy the latest and most intuitive design practices.
Data & analytics
The best apps learn from their users to inform the next iteration of the user experience. We'll analyze which features get the most (or the least) use and steer development efforts toward the greatest possible value for users.
Personalized user experiences
Matching app data with business intelligence tools can identify behavior patterns and user groups. You can then make targeted offers and relevant communications, or even personalize the experience to a specific group.
Business design, transformation support and other services
Strategy & direction
We map out future scenarios for our customers and define strategies for change based on research and analysis of the possible futures, trends, customer insight and market environment. We can help you crystallize your purpose, position your company and create a future vision and roadmap for success.
Operations & processes
We plan lean and efficient processes for our customers and find ways that their services can be delivered to create value and profit now and in the future. Our tools include blueprinting and organizing the service models and operations.
New business innovation
We facilitate and co-create new offerings, services and CX visions for our customers. We can help identify key segments to focus on and the big ideas that really make a difference in terms of addressing customer needs.
Organization & culture
We help customers set key values, principles and ways of working, setting off long-term organizational change, sustainable transformation and better employee experiences.
Transformation
We help facilitate human-centric and sustainable transformation for our customers' organizations, processes, products and experiences, which create lean processes and efficient ways of working.
Sustainable business models
We help our customers find common ground between demand and sustainability to help them build viable offerings and business models that create value.
Explore examples of our work
What's in your mind?
Just drop us a line and we'll get things rolling!
Before you continue, tick the box that you're interested in: